We locate in tropical climate, surrounded by rich and fertile rain forest where is the habitat of hundreds species of mosses, liverworts and related matter. Our selection is the ones have been proven they successfully adapt to terrarium conditions.

Our moss collection needs warm (above 15 Celsius degrees) and relatively high humidity to grow well under medium-high light level. There are also a few species that are fairly easier to grow, but definitely seasonal.

Despite the fact that mosses and liverworts are commonly and recovery resource here, offering cheaper price of fresh harvest always cause difficulties, particularly for export. From this, what we offer is artificially propagated plants in our subcontract nurseries.

For the mosses, typically what we ship is 2" x 3" or "4" x 6" portion. See examples below;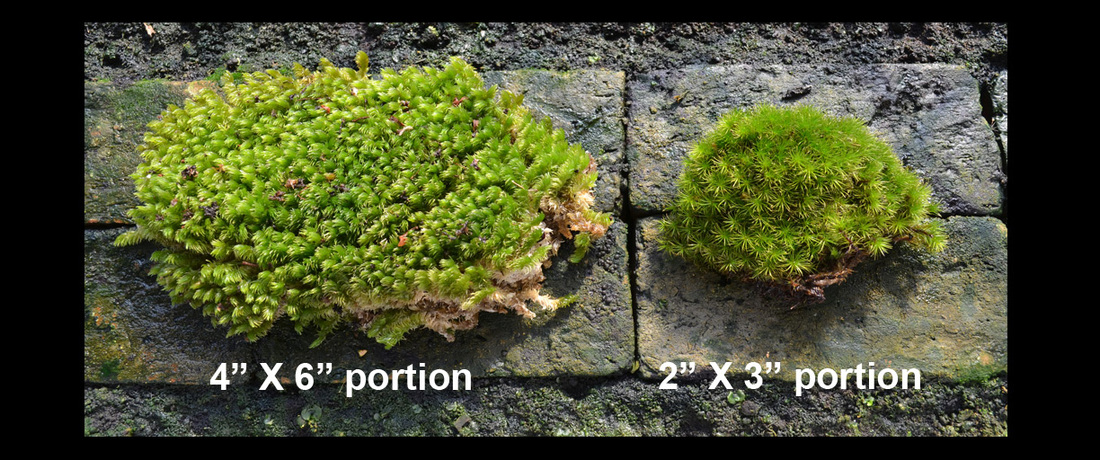 We offer 3 options of packages in order to serve your demands;

Small (100-150 g.) : approximately 3 portions (2"x 3") or 1 portion (4" x 6")
(Handling charge is $2.00 per package)

Medium (250-300 g.) : approximately 6 portions x (2"x 3") or 2 portions (4" x 6")
(Handling charge is $4.00 per package)

Large (500-600 g.) : approximately 10 portions (2"x 3") or 4 portions (4" x 6")
(Handling charge is 6.00 per package)
*shipped in S package or larger

Liverwort will be shipped in pot or bared root, depends on your preference (or your country requires). See the offer size on each item (handling charge is $1.50, same rate to other plants).
---
Please note:
- Prices are in US dollar and includes VAT & PayPal fee.
- Some items now can be shipped in pot (see notice in the description). If you prefer plant sent by this way please inform us in the order form. We will calculate the shipping cost and inform you in the draft invoice. However, for some country pot plant cannot be shipped anyway. Please check with your local authorities before ordering.
---