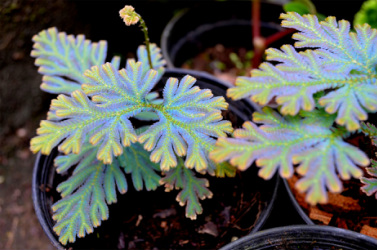 Selaginella or spike moss, is neither moss nor fern. It has more developed structure than moss but not reach fern. Their hallmark is "centipede leaf" that produce elongated root like foot when stretch on moist ground. The leaf when mature produces "strobilus" which is the hard tip, with same function as spores; form new plantlets on the damp soil. From this it should be classified as fern ally like huperzia, psilotum and equisitum.

Unlike other fern allies, selaginella is a widespread genus. To date over 300 species have been named with many more new species waiting to be discovered. Generally it loves relatively high humidity under partial shade, which make it best suit for greenhouse or ground cover in terrarium.


By the way, there are also many species from sub-tropical climate, which more challenge to grow. For example selaginella peruviana and selaginella tamariscina, prefer constant moisture, but the roots should be able to breathe in fairly dry compost.
---
Please note:
- Prices are in US dollar, includes VAT & PayPal fee.
- Some items now can be shipped in pot (see notice in the description). If you prefer plant sent by this way please inform us in the order form. We will calculate the shipping cost and inform you in the draft invoice. However, for some countries pot plant cannot be shipped anyway. Please check with your local authorities before placing order.
---